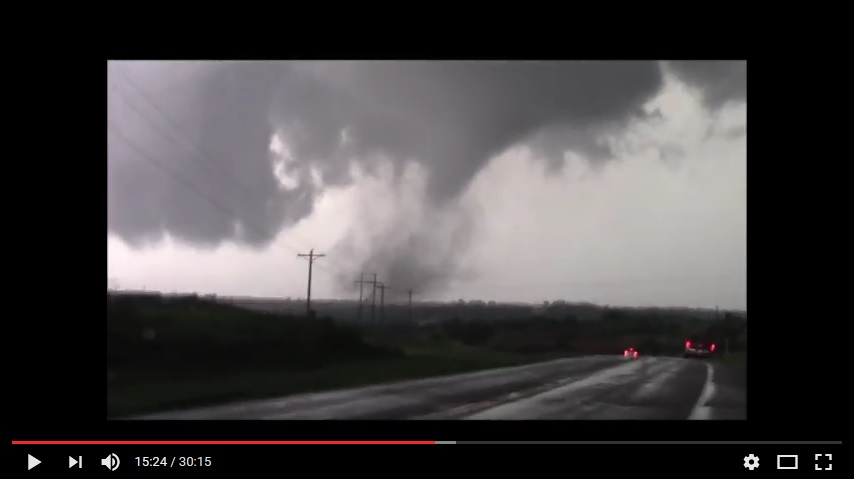 YOUTUBE Link here
We expected this day to be messy and in many ways it was.  Surprisingly, our success came from a storm that managed to be isolated enough from the mess to allow us to play it during its greatest tornado production.
We initially drove northwest to Seiling and west into Ellis County.  During our entire drive, numerous areas of storms were developing to our west and southwest, and tornado producing supercells were moving northeast across southwest Oklahoma.  Several of the storms within reach were severe, but there was a large amount of precipitation and haze that prevented us from seeing anything with sharp detail.  We first targeted a storm that tracked from near Fargo to northwest of Woodward, but this storm was very wet and entered an area with a bad road network.  While trying to decide whether or not to stay with this storm, an east/west explosion of storms occurred south of Woodward and was headed our way.  The decision was made to abandon this entire area and move southeast on Highway 3 back toward Seiling.  Our luck changed as a storm southwest of Seiling rapidly became severe and immediately started rotating.
We worked through the north side of the core with only slightly limited visibility and some small hail.  What we encountered when we arrived just west of Seiling was a storm that bordered between classic and low precipitation.  The updraft was nicely exposed and an area of rotation was evident to our southwest.
Several tornadoes were observed with this storm as it tracked almost straight north near the Major/Woodward county line.  (Times CDT)
1) 4:11 pm – A small, brief tornado about 6 miles west of Seiling in Dewey County.
2) 4:23-4:36 pm – This tornado was fairly large, up to 200 yards wide at times.  It tracked from about 4 miles west of Chester to about 10 miles north of Chester in Woodward and Major counties.
3) 4:37 pm – Another small, brief tornado about 10 miles north of Chester in Major County.
4) 4:50-5:07 pm – This tornado was another large one, up to about 200 yards wide.  It tracked from about 12 miles south southwest of Waynoka in Major County to about 4 miles west southwest of Waynoka in Woods County.